Spewing dead-end Republican talking points like a perpetual regurgitation machine, Palin found an enthusiastic reception this past Sunday on Corporate America's protection racket and propaganda channel, Fox News, where she went over the same old dead end policies that have brought America to the brink of disaster with a wink and a smile and promised more of the same if God wills her to run for President.
Fresh from her speaking engagement at the first ever convention of Teabaggers where Palin was caught amateurishly referencing cheat-notes of the same old dead-end Republican talking points written on her hand, she poured on her "folksy charm" wrapped in her MIFL (Maverick I'd Like to 'F*%#') brand – cleverly coupled with the intent to further confuse the barely literate "everyman" Republican constituents who "want their county back" from the African American their fellow citizens legally elected to help protect them from the exploitations of the very corporations they loudly rally to support.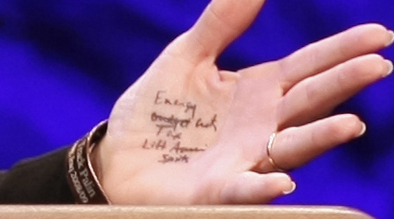 F*%#ing Ameuture

More appalling than the notes themselves was their content as it seems that Palin has trouble remembering, not the nuances of complex policy issues, but about her supposed core beliefs.  More on that at the Huffington Post.
Palin also displayed a stunning level of arrogance and complete lack of irony for, once again (yawn), criticizing President Obama for his use of a teleprompter- an argument that has lost it's bite given the President's recent unscripted Q&A with Republicans in where he displayed a complete mastery of policy and the issues without aid of the pre-screened questions Palin relies on since the time unrehearsed responses served only to reveal her ignorance to the delight of the nation's comedians.
Given the fact that Republicans cry "spending cuts" and "tax cuts" like the Rapa Nui Priest of Easter Island cried, "build more Moai and the crops will return," it's hard to believe that Palin would need to use her hillbilly teleprompter hand scribble in order to remember the middle-class killing, Republican policies she incessantly insists will create Republican Utopia in spite of the boom and bust, Depression/Recession reality these policies always trigger.
In the face of the calamities Republican policies have inflicted on a once-vibrant middle class, the Alaska half-term Governor, Republican Vice Presidential candidate and now professional social media updater, incredulously believes the normal people of the United States (non-Republicans) would be lucky to have a President known for her ideologically-based, disjointed grasp of complex issues and sophmoric critisisms of her perceived opponants.
The sobering reality is that with the official corporatization of America by Judicial coup d'état in which the right wing activist judges (confirmed through Democratic Party  'bipartisan' capitulation) reneged on promises of restraint and respect for stare decisis and overturned a century of settled law on Mussolini-Style fascism in America, Palin would be the perfect corporate puppet if our sovereign corporate overlords should chose to sponsor her in the 2012 elections.
Given Palin's Pentecostal "the end is near, Jesus is coming, it's God's will" religiosity, no doubt she see's herself as a pawn in the great cosmic chess game between her mythical Man on a Cloud and his Cloven-hoofed adversary.   God help us if she succeeds in her efforts.
Get involved with Move to Amend to end corporate personhood.  Contact your lawmaker and the White House (phone number 1-202-456-1111).  This "Corporations are People," destruction of "We The People" must be stopped  – TODAY.